Interview with Barry Kenny, Irish Rail on travel and rail travel
Posted by
Sheila
on May 10th, 2011 in
Travel interviews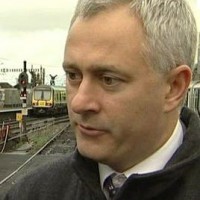 I am the corporate communications manager with Iarnród Éireann (Irish Rail). I have been working in Irish Rail basically my entire working life. I'm from Dublin originally but ended up going to college in UL (University of Limerick) to do a Business and French degree. I then did a post grad in PR and got a two week work placement in Irish Rail and I suppose that was it then. That's 17 years ago now and I'm still here. It's a never-a-dull-moment kind of a place here and it's a job I do enjoy.
It's a job that has given me the opportunity to travel a bit as well. Travel would be, obviously, one of my major interests in life. My other interests revolve around sport and politics to be extremely broad about things. I suppose for work I don't have to travel too much really as I am based here in Dublin. Considering we are an Irish company I don't have to travel abroad too much which is handy. I just spin around the rail network.
Frankly, travel for me is never a chore. It's the one thing that I will actively save for. I like to get a good break and holiday away. As I said I'm not one of these people who travel for business and have to constantly go through busy airports. I guess that's why I enjoy travelling and you will never hear a grumble from me during a trip.
Genuinely on an unbiased and personal note I do enjoy travelling by train. I mean obviously if I'm going abroad I take the plane but if planes weren't fast nobody would ever travel on them. I remember in my early years I got to inter-rail and it does give you an affinity for it. I also like taking the ferry the odd time. I'd also love to travel across the US by car, along the great Route 66.
I think one of most memorable trips occurred in 1998 when I travelled to Croatia and then onto Bosnia. Of course, it was only a few years after general hostilities in that area had stopped and I remember people asking me why I was going over there and is it safe etc. But while I was over there the Omagh bomb happened and I started asking myself where are you safe?
It was quite a special time to be travelling around those areas at the time. There's people I met there that I am still friends with today. I particularly remember Bosnia itself and Sarajevo which was something else. There were buildings which were absolutely tattooed with the scale of war. There was a graveyard in every public park and every night there was some kind of memorial for fallen soldiers of the war.
I thought to myself, god, is it too early to be here but the welcome was extraordinary. I remember sitting in a pizzeria called Bono, as Bono and Princess Diana were funnily enough two of their heroes at the time, and I was just chatting to locals asking them for help to translate the menu and as I was leaving to pay the bill I had found out that the people I was chatting to had already paid for my meal. I dare say that I was better placed to pay for my meal than they were. It was one of those once off moments in time that I'll always remember.
On a more topical note, I think that we in Ireland are fortunate, in terms of our public and private transport sectors, that a lot of stuff got done before the money dried up. As I have worked in Irish Rail since 1994 I can genuinely remember when we had nothing and things were being held together by tape and peoples expertise. However, things have changed since then and we have been able to replace the train fleet and now Ireland has a modern train fleet. Also, the road work has been upgraded as well as the improvements to bus routes.
I suppose the next thing to do, on our part, is to focus on improving the speed of our train fleet. The competitive advantage that we had years ago has been eaten into by the development of the new motorways thus, we need to focus on improving our speed. We would still like to do things like the Dart underground in Dublin as that was one of the main things that didn't get done when the capital funds were there. It's what people expect. They travel to other cities with underground systems and it would be great to deliver that service here in Dublin. Overall, I think the Celtic Tiger years were good for the transport industry compared to others.
I think rail travel faces a number of challenges. Our main challenge is to keep up with our main competition which is the motorways and road system. It's not just about speed though, I think it has to also be about the experience on board and we are looking at further improving and enhancing the rail experience by rolling out Wi-Fi for the whole fleet. I think there's a value on people's time and what they can do while travelling and these new facilities on board will hopefully keep us a popular travel choice.
I also briefly worked with Ryan Air for a very short time but due to my own personal circumstances I went back to Irish Rail. Ryan Air and Michael O'Leary get an awful amount of bad press but I think that if Ryan Air were an American or European company that decided to base their headquarters in Ireland then business leaders and politicians would be queuing up to kiss their feet for what they have done for the country. I think that it is fantastic that a company like that has developed here and its innovation really does act as an example to other companies.