Brian Crowley on travel and rail
Posted by
Sheila
on Apr 9th, 2011 in
Travel interviews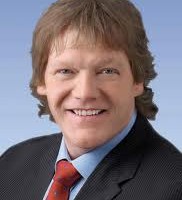 I'm 47 years old. I have been a member of the European Parliament since 1994. Before that I was a senator and before that I was a singer in a hard-rock band. I studied law in college, was an auctioneer, had my own record and music publishing company and my own radio station.
In my career, past and present, I have obviously had to travel a lot. I've always been, since I was 15/16, travelling. Especially in my current job where I must travel an awful lot every week. So I suppose I'm like a regular commuter back and forth, through red eyes and everything else.
Personally, I don't mind it. I think in one sense travelling has become much easier because there are so many options but it has also become less glamorous because of the restrictions that are there and the difficulties with regards to security and what baggage you can bring and can't bring etc.
As well as that I'm in a wheelchair so I'm a disabled passenger who requires special assistance at different airports and there aren't always the same standards or quality of assistance. I've often felt discriminated against. A number of times Air France refused me boarding because I wouldn't check in my chair at the check-in desk as opposed to letting me give them my chair once I had boarded the plane. Likewise, both Ryanair and Air France only allow three special assistance passengers on each flight and if you're the forth, then you won't get on, even if you have a business ticket it won't make a difference.
Like I said, the quality of the special assistance varies from different countries and airports. Of course I might be expected to say this, but it's true, the quality of service in Cork, Dublin and Shannon airports is fantastic. Maybe it's because they're smaller as well. But likewise, Amsterdam is very good, especially if you're transferring flights internally and it's a huge airport.
Although then, Charles De Gaulle is a disaster because there are five different terminals and they are all spread around different places. You then have to get buses to go from one terminal to another and it's not always possible to get on the right bus at the right time, it's just a disaster. Likewise, Heathrow with all its different terminals can be quite awkward too.
Amazingly enough though, for me, Rail travel is the most difficult form of travel because you need assistance to get onto the train even though you would think you could do it. Not every train has the facilities where there's a space in the carriage where a chair can fit into. Getting someone to take you off the train on the other side doesn't always work either. But I don't use the train that much anyway. I have used the train in the Channel Tunnel, the Eurostar, to go to Brussels occasionally and I've used the train from Amsterdam to Strasburg too. Sometimes it works and sometimes it doesn't. It's like everything else I suppose.
One of the most amazing travel experiences I've had was during a trip to Sarajevo, Bosnia, what was Yugoslavia. The special assistance there was the European Champion Weightlifter. He came up to the plane, picked me up out of my seat into his arms and carried me down the steps and placed me into my chair at the bottom of the steps. Now I'm not small by any means but he was huge. That was one of the funniest things that ever happened.
There are some fantastic places to fly into when travelling. But the three most beautiful places to fly into are Carrick Finn Airport, Donegal, flying in over the islands off Donegal is breath-taking. There's Nairobi in Kenya and then there's the Eastern part of Poland on the Russian Boarder which is fantastic as well.
My most memorable trip was my first. I was 14 years of age and I went to Manchester to visit my uncle who was a priest over there. I was just fascinated by flying then and to this day I am still fascinated when I sit in an airport and see planes taking off and landing and think of the phenomenal technology and human endeavour that can make it happen and make it run on time and relatively safely too.
As well as the good trips, there have also been times I've hated travelling. The have been several times I have been stuck in cities overnight and have had to stay in hotels overnight because flights have got cancelled or delayed. When I first started going to Brussels in 1994, I used to always get hassle from the special assistance branch at each airport and always missed my flights going through Heathrow especially. But that was only for a couple of years and then they eased off after a while.
As I explained earlier when I was travelling with Air France, some airlines can be very pernickety about the things they allow and don't allow. Sometimes, literally, you can't win against them. But you're stuck and dependent on the airlines to get you where you need to go so you have to bite your tongue on occasions.
I suppose I've never really had a real travel disaster, even the time of the volcanic ash cloud. I had come back to Ireland the day before the volcano erupted but some of my colleagues were caught in Brussels for nearly two weeks, so talk about timing. It just shows you the inability of the human being to control nature no matter how panicky you get about it. It doesn't matter how uptight you get, you can't do anything about it. You just have to wait for the clouds to clear, excuse the pun.